Professional POS System.

with detailed sales and store analysis.
Manage your customers
Improve the relationship with your customers by satisfying their individual wishes.

Understand your data
Get more out of your data by understanding how customers interact and engage with your products.
Optimize your warehouse
Keep track of your storage and improve your overview. No matter if you run a small or large business.

Support your team
ready2order's point of sale terminal helps you to perfectly coordinate your team within one hub.
POS Features.

adapted to your daily business.
Creating products with one or more tax rates
Entering prices manually for special items and fixed prices
Cancellation within seconds
Individual entitlement for employees
Multilogin for quick changes of employees
Management Features.

that make your life easier.
Electronic cash journal
Comprehensive employee statistics
Reliable sales and product analysis
Complete customer data management
Extensive warehouse management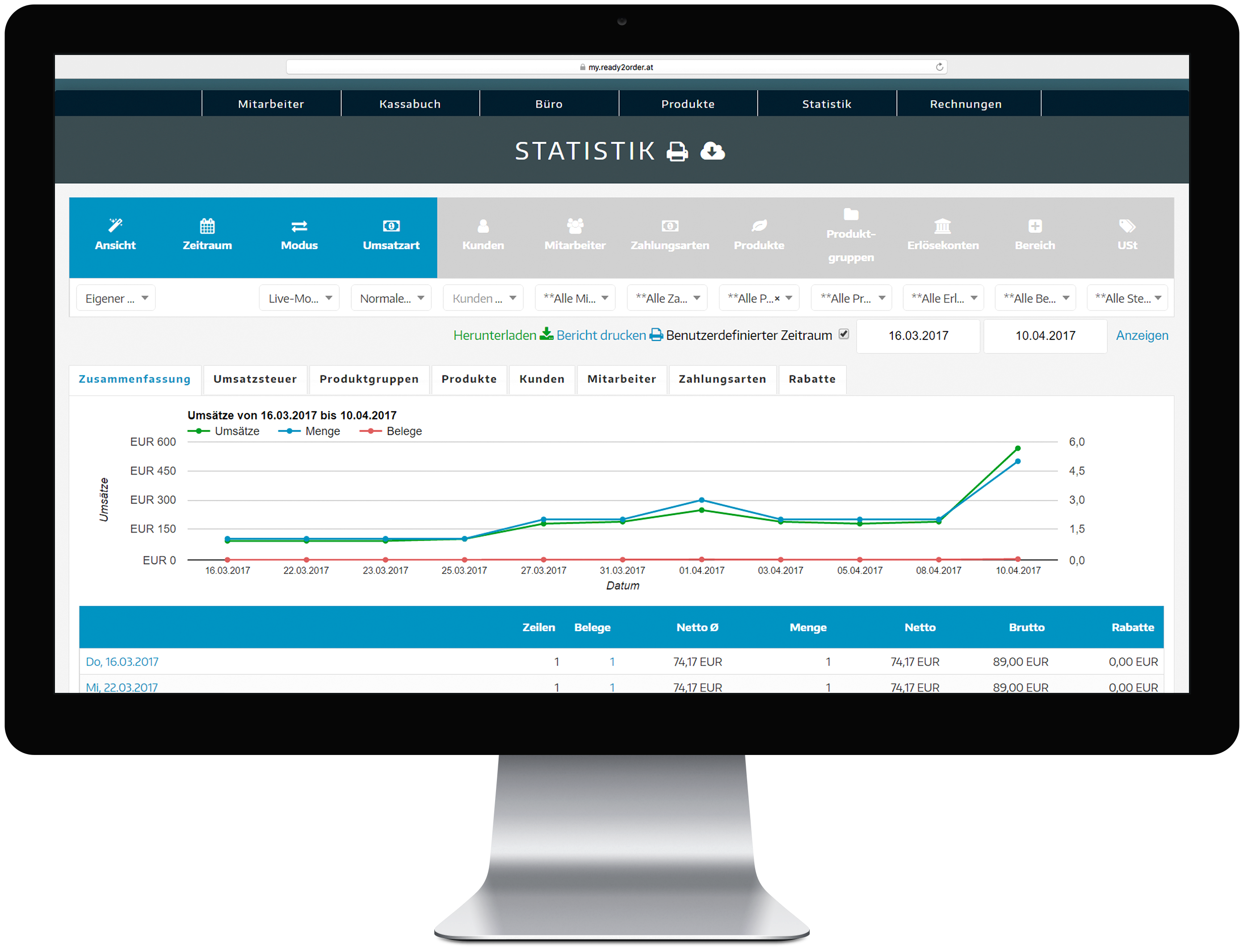 All Features.

no compromises.
Easy cashing with ready2order.
Stockmanagement
Integrate new products in a few seconds and always have control over your product levels across your stores
Employee Statistics
Get insights on the performance of your employees and calcuate their salaries based on hourly rates
Customer Profiles
Manage all your customer data at one central hub and constantly expand your customer base
Temporary Offline-Mode
Print receipts even when the network or the internet breaks down
Customizeable Design
Define receipts according to your wishes and leave a residual impression on them
Discounts and Notes
Add discounts and notes to individual products and complete product groups
Platform-Independent
Our POS works as an app and in the browser which makes it perfect for multi-device usage.
User Roles
Define user rights and assign responsibilities to have clear chains of responsibility
Intuitive Interface
Employees get to know the system within minutes and you are good to go in an instant
Order Management
Define your suppliers and always have a real-time overview of all your delivery orders
24/7 Customer Support
From A as in availability to Z as in zeal - our free customer support is here 24 hours a day to help you
Partial Payment
Effortless payment with two or more partial payments within a single transaction
Several Payment Methods
Create custom buttons for card, cash, voucher or any other payment type you can think of
Contactless Payment
card complete enables payment with all common credit and cash cards
Central Product Catalogue
Manage your products in a unified user-interface for all platforms
Variations and Composites
Define product variants by size, amount, color and many other factors and shape your inventory as you like
Data Import & Export
Export your revenue, product and customer data for in-depth analytics or send them directly to your accountant
Inventory Management
Have insights about the stock and see which products are available and which are not